2022 Christmas Kettle Campaign
The Salvation Army's Christmas Kettle Campaign is one of Canada's largest and most recognizable annual charitable events. In addition to the critical fundraising impact of the Campaign, the Christmas kettles boost the Army's visibility and awareness. In fact, there are more than 2,000 kettle locations across Canada that support a wide range of Salvation Army programs.
For many Canadians, the Christmas kettles are their only point of contact with The Salvation Army all year. According to public opinion polling, more than half of all Salvation Army donors list "giving to a Christmas kettle" as their primary method of giving to The Salvation Army.
Furthermore, the Army relies on the co-operation of numerous retail partners to ensure the ongoing success of this campaign. Continued goodwill from these retail partners is critical.
Burnaby: This year Cariboo Hill Temple and Harvest Community Church (both in Burnaby) are partnering together to run our kettle campaign, with a combined goal of $175 000 this year. We are looking for people who are willing to volunteer as a kettle host throughout the season, as well as those wanting to work as a host. See the link/form bellow if you are interested in helping us in this venture.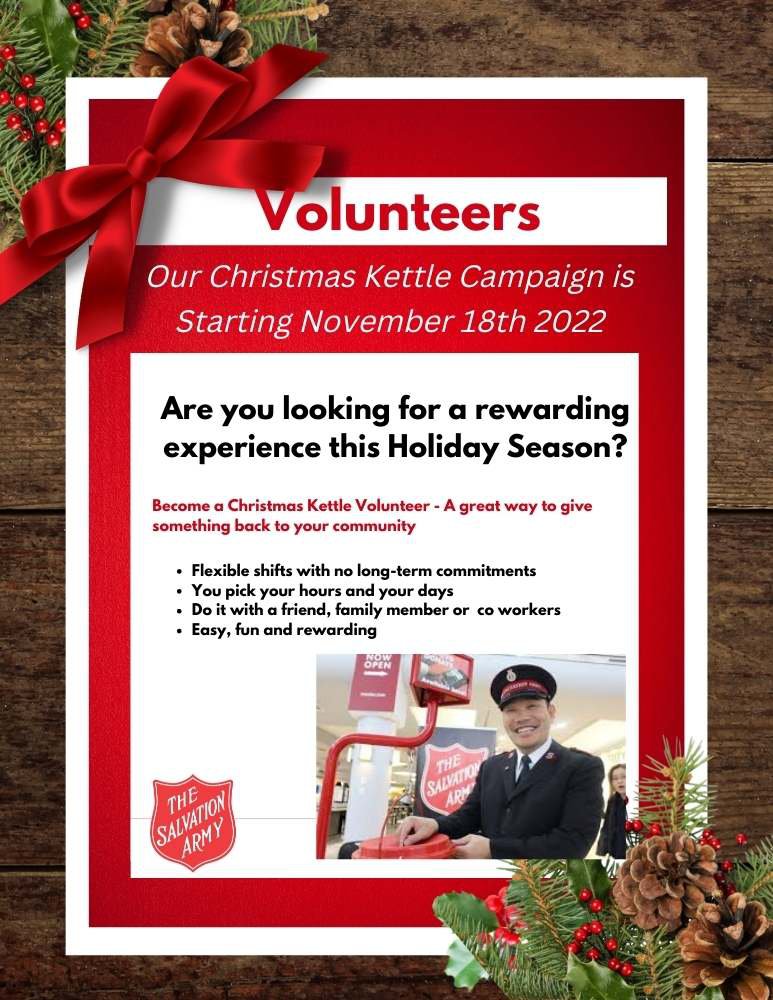 Kettle Host Worker
We are looking for people who are interested in working with us this Christmas. We are offering $17/hour with flexible shifts, and lots of opportunity throughout the Burnaby area. Please fill out this short form and we will get back to you.